Why not Dive Into the History of the European Capital of Culture 2020 - Galway. Explore all the Mesmerising Things Galway has to Offer you!
During the Middle Ages, Galway (Irish: "Gaillimh") was ruled by an oligarchy of fourteen merchant families. Their names were Athy, Blake, Bodkin, Browne, Darcy, Deane, Ffont, French, Joyce, Kirwan, Lynch, Martin, Morris, and Skerritt. These were the "tribes" of Galway. The city thrived on international trade, and in the Middle Ages, it was the principal Irish port for trade with Spain and France. The most famous reminder of those days is ceann an bhalla ("the head of the wall"), now known as the Spanish Arch.
Galway City has many relics of its medieval past and is worth taking time to explore. It has changed considerably over the last number of years and is a young and vibrant place, yet ancient and historic with a mix of new and ancient architecture. The centre of the city is conveniently compact enough to ramble around comfortably. Galway has a multitude of things to do for all ages - Just take a look at our Map.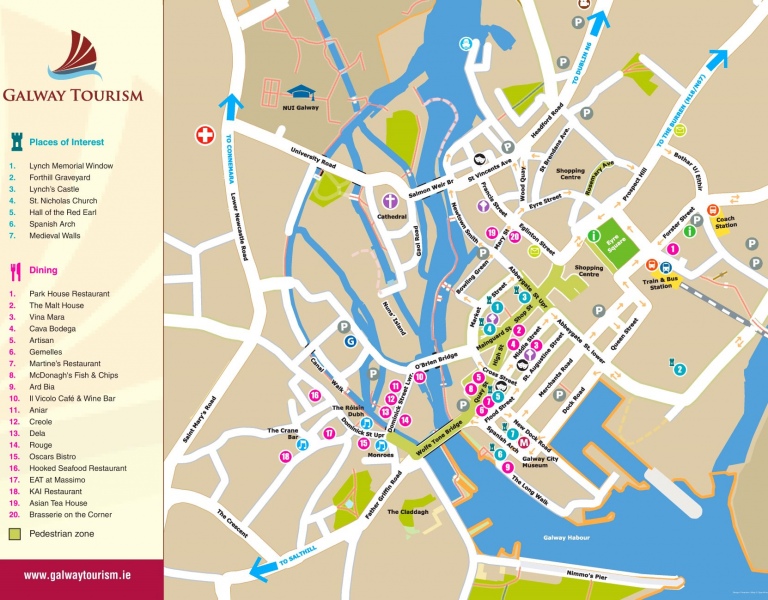 The Claddagh Ring
The Claddagh Ring originated in the fishing village situated near the "shore" or "Claddagh" of Galway Bay. The Claddagh outside the City Walls, and further separated by the River Corrib, was an exclusive community of fisher-folk forbidden to use spade or hoe and ruled by a periodically-elected "King" whose sole distinguishing mark was his right to use a white sail on his fishing hooker. The ring shows two hands holding a heart which wears a crown. This motif is explained in the phrase: "Let Love and Friendship reign", and ideal poesy for a wedding ring used by a small community for over four hundred years. This distinctive design is associated with one of the Tribes of Galway, the Joyce family.
The Claddagh Ring has become iconic all over the World, thanks to the spread of Irish people across the Globe. The Simple symbols of Love, Loyalty and Friendship have become a Synonymous with Countless Love stories since it was first created.
Find your Family's coat of Arms and Discover what it means or Learn hoe to wear your own Claddagh ring by visiting the Legend of the Claddagh Ring Website

European Capital of Culture
Galway, the European Capital of Culture 2020, is a vibrant city worth a visit for its cultural and historical attractions as well as being a centre for Arts & Entertainment. If that doesnt whet your appeitite, the variety of restaurants and pubs located around the city will suit all taste buds. Or just sit outside one of the many public houses and sip a pint of the Black Stuff while watching the world walk by.
The 2020 Cultural Programme is a with an Artistic Vision for Galway, while being Presented through a European Lens and Supported by Partners and Collaborators in Europe and Beyond. It is about Creating new ways of Thinking, New ways of Working, New Conversations and New Partnerships aimed at ensuring a more Creative Galway. What to expect? A Year-Long celebration of Rain, Street Spectacle, Exhibitons, Artist Broadcasts, Classical Concerts, Dance, School Projects, Musical Performances, Live Art, Theatre, Circus, Food Projects and so much More!
Expect Moments and Great Memories that will Last a Lifetime..