Working at Ard Rí House Hotel is an extremely rewarding experience where your strengths are appreciated and your skills grown. Ours is a work place that brings out the very best in everyone. We want individuals to bring their personal style to every experience.
If you join us, we will provide you with training, uniforms along with a friendly team environment where individuals can excel on their own merits. Our team have a reputation for being particularly friendly, efficient and helpful.
If you'd like to move your career forward as we move forward, then have a look at the openings currently available below. If there's nothing that suits you perfectly, send us your CV anyway. You never know when a new position might open up.
If you believe that you have the passion, enthusiasm, service skills and dedication it takes to work in this challenging and demanding profession, why not drop us your CV by emailing info@ardrihousehotel.ie .
---
Current Vacancies
Thursday, 8 August 2019
We are seeking enthusiastic, self-motivated and professional individuals to work with us in 2019 and beyond as we continue to grow the business and consistently exceed the expectations of our guests.
We are Currently recruiting for the positions of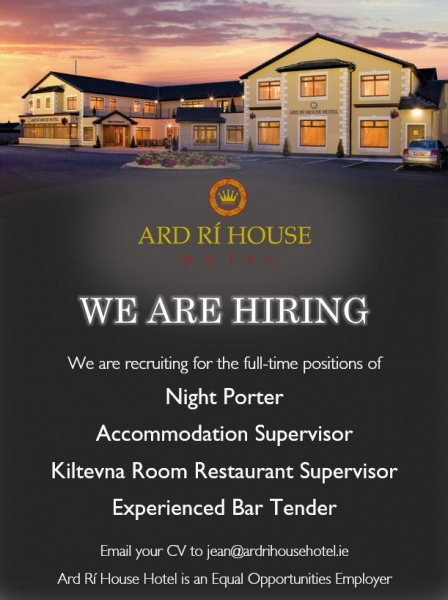 Restaurant Supervisor (Full Time, Permanent)

Accommodation Supervisor

(Full Time, Permanent)

Minimum of 1 years' experience in a similar role
Fluent English Required
Eye for detail to ensure cleanliness and tidiness of the hotel
Night Porter (Permanent, Part Time)

Bar Tender (Full Time, Permanent)

Previous experience in a high volume/ fast paced environment.
Previous experience in a busy food and beverage operation
Fluent English and excellent communication skills.
We are recruiting the above positions for immediate start.
You are invited to send your CV to jean@thomasmchugh.com
Ard Rí House Hotel will deal with your application with utmost confidence. Any information provided with your application is dealt with in accordance with GDPR guidelines. We are an Equal Opportunities Employer.