The Coast of Connemara
From the rugged Twelve Ben mountain range in the north through lake-rich Roundstone-Bog to the golden beaches reaching out into the Atlantic Ocean, you'll know you are in Connemara by the light that constantly changes the mood and tone of the country. Connemara has long been regarded as the real emerald of Ireland. This natural terrain and unspoiled environment offers the visitor a wonderland of sights, experiences, adventure and activities.
Only half an hours drive from the Ard Ri House Hotel, through Ballinrobe, into Cong, you are at the gateway to Connemara. A wonderful daytrip, breathtaking sceneries and lunch stops in local pubs serving freshly caught fish and mussels is a must. To plan your trip today visit Connemara Tourism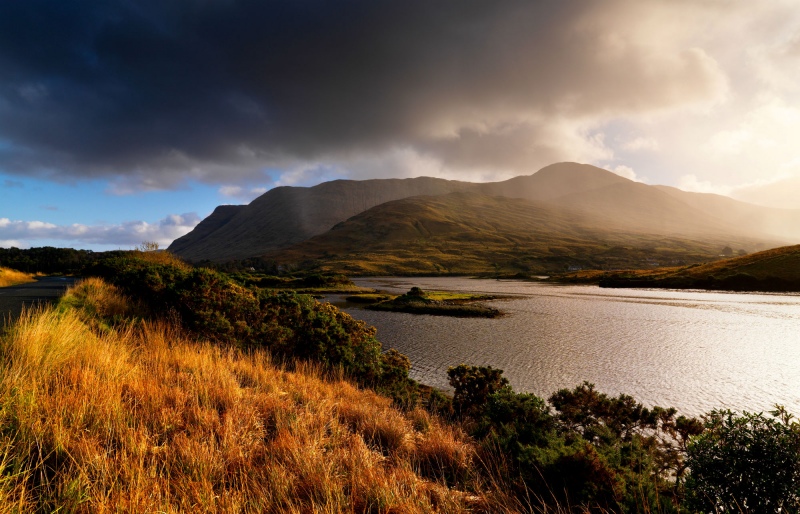 Kylemore Abbey
Kylemore Castle was built as a private home for the family of Mitchell Henry, a wealthy doctor from London, whose family was in textile manufacturing from Manchester, England. He moved to Ireland, when he and his wife, Margaret, purchased the land around the Abbey and became a politician, and was also an MP for County Galway from 1871 to 1885. The castle was designed by James Franklin Fuller and Ussher Roberts. Construction first began in 1867, and took one hundred men four years to complete. The castle covered approximately 40,000 square feet (3,700 m2) with over 70 rooms and the principal wall was two to three feet thick.
Kylemore Abbey (Irish: Mainistir na Coille Móire) is a Benedictine monastery founded in 1920 on the grounds of Kylemore Castle, in Connemara, County Galway, Ireland. The abbey was founded for Benedictine Nuns who fled Belgium in World War I.
The dramatic landscape and iconic image of a gothic castle reflected in a Connemara lake has made Kylemore Abbey world-famous and it is now the largest tourist attraction in the west of Ireland.
Kylemore Abbey is the ideal destination for a day out in majestic Connemara. Located about an hour's drive from Tuam, a visit to Kylemore will rank as an unforgettable memory. Ideal for a day out with the Family or a Romantic Backdrop for a weekend away - For more information please see Kylemore Abbey & Victorian Walled Garden